ReSound Smart App and Wireless Accessories
ReSound has partnered with Apple to develop a hearing aid that can be directly connected to an iPhone without the need of an intermediary device to wear around your neck. It uses a low power Bluetooth connection and allows some of the ReSound models to be paired with the aids.
Right now, compatible models are the LiNX9, LiNX 7 and the ENZO. In addition, the aids will pair with the iPhone 5 models and using the IOS version 7.
The iPhone 6 with the IOS 8 is being worked on to be able to use the ReSound hearing aids, but is not ready as yet.
You can do quite a few things with the Smart App, such as:
Adjust the volume of the aids, either together or separately.
Adjust the Bass and Treble.
Change programs.
Find your hearing aids if you've misplaced them in the room.
The taller the bars on the display the closer you are to the aids.
Your favorite hearing aid settings saved to the location of your choice.
In addition, when the phone is paired to your aids you can answer the phone and have the conversation streamed directly to your devices.
The aids can also be paired with an iPad (it has to be 4th generation, iPad Air, iPad Mini with retina display or the regular iPad Mini), iPod (5th generation or newer). Basically, you can do a lot with your Apple devices when you pair them with the Resound LiNX or ENZO aids.
ReSound Unite Phone Clip+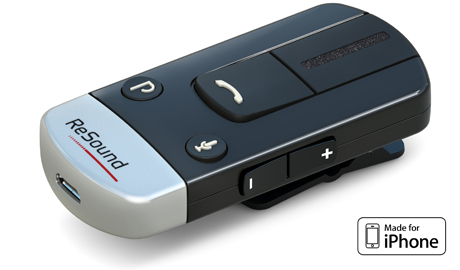 But what if you don't have an iPhone? You can still pair the aids to your phone to accept calls using the Resound Unite Phone Clip+ (pictured on the right).
The Phone Clip+ is small and clips on your shirt or lapel. When the phone rings, you press a button on the Phone Clip+ to accept the call, and press the button again to disconnect.
You can also change programs and adjust the volume with the Phone Clip+.
ReSound Unite Remote Control & TV Streamer
The Phone Clip+ is one of several ReSound devices called Unite Accessories. These are used to enhance your overall hearing experience with your Resound aids.
Besides the Phone Clip+ you can have a Remote Control to change programs and adjust volume, or a TV device (pictured on the right) to stream the sound directly from your TV to your hearing aids, all wirelessly.