Phonak Wireless Hearing Aid Accessories
Modern hearing aid technology makes hearing and understanding in most situations enjoyable.
But when you're on the phone, watching TV or in a noisy place, following a conversation can still sometimes be frustrating.
That's where the Phonak Wireless Communication Portfolio comes in. These useful add-ons link to your hearing aids to help you hear more in challenging situations.
In addition to being able to connect to your cell phone, you can pair your Phonak hearing aids with other Bluetooth compatible items, such as an iPad. There is also an extra device that can be used in conjunction with the Icom to listen to your TV directly into your hearing aids.
Phonak ComPilot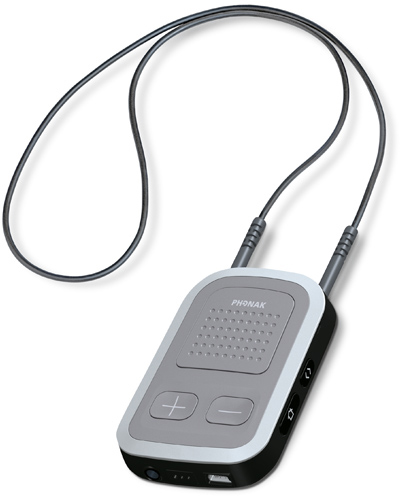 The most popular Phonak accessory, the Phonak ComPilot streaming accessory allows users to enjoy cell phone calls and high-clarity stereo sound quality for multimedia audio through their hearing aids.
The ComPilot allows the user to easily connect up to 8 Bluetooth-enabled devices, such as cell phones, smartphones, computers, tablets, music players and more.
The ComPilot can be used as a remote control as well. You can change programs on the hearing aids as well as adjust the volume levels.
The ComPilot also offers VoiceAlerts for easy interaction.
When to Use It
Cell phone.
Music players and computers.
Remote control of the hearing aids.
Phonak PilotOne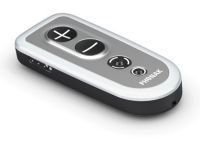 The Phonak PilotOne is a simple remote that wirelessly connects to the hearing aids for easy control of the most important functions.
It is similar to the ComPilot, but without the ability to connect to Bluetooth devices.
It has large buttons to change the programs on the hearing aids and to adjust the volume. It has worked well for our customers who have needed a simple remote.
Phonak RemoteMic
There are times when you would like to hear better in a noisy restaurant, or to hear someone who is more than twenty feet away (since hearing aids aren't very effective beyond 10 to 12 feet away from you). Phonak solves this problem with their remote microphone.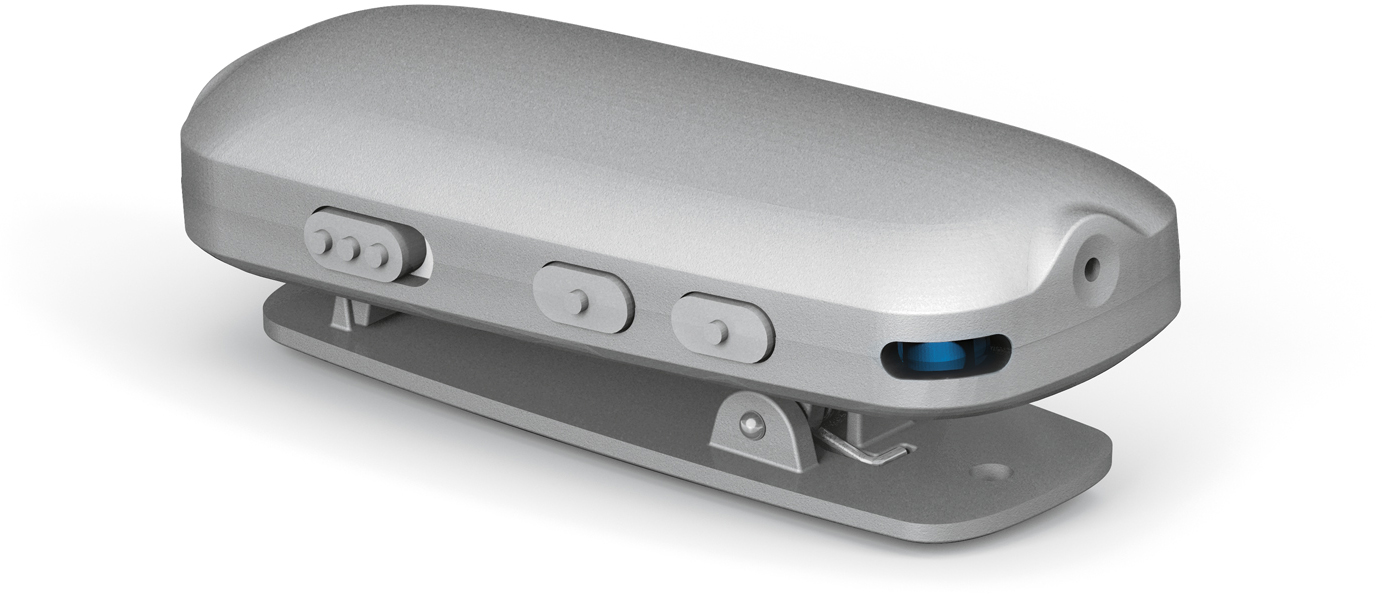 Phonak RemoteMic is used in conjunction with the ComPilot to enhance your one-to-one conversations in noise and over distance.
The RemoteMic can be attached to your conversation partner's clothing and transmits their voice to your hearing aids. With the hearing aids on, you put the ComPilot around your neck. The other person clips the microphone on their shirt or blouse, positioning it near their mouth to pick up their speech. The sound is then transmitted wirelessly to the ComPilot and then to your hearing aids.
This allows you to hear the person across from you pretty much directly into your ears. Since it is a direct input, their speech is much more pronounced than the noise of the restaurant.
When to Use It
One-to-one communication in noise and over distance.
In smaller meetings.
The volume of the hearing aids is automatically turned down while the RemoteMic signal is being received.
Phonak TVLink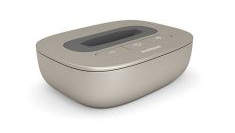 Phonak's TVLink accessory is used to connect to your TV. It has a range of up to 100 feet (that's a pretty big room!) and allows you to hear the TV directly into your hearing aids, and in stereo (if you have two aids).
The TVLink is fairly easy to connect and you will usually find that a direct input into the aids from the TV will work better than the hearing aids by themselves.